Ordinary of Medieval Armorials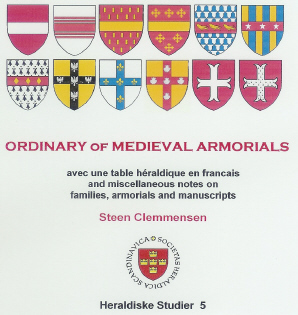 The CD-ROM edition of the Ordinary of Medieval Armorials is in fact two editions:
the database version, vs.1.2 (2013), readable with Microsoft Access 2003 (or later), and having more functionality than
the pdf-version (2006), readable with Adobe Acrobat vs.6.0 (or later).

Both versions have four functional parts:
an ordinary of 64682 coats of arms (2006-version), in part or in toto from 190 armorials, blazoned in both English and French, and attributed to families, branches or persons - for 2013 verrsion see below;
an alphabetic armory (2006-version) with notes on 17213 families and 26203 branches or variants, each with references;
Sigla and notes on 506 armorials, murals and decorations with reference to surviving manuscripts (also available through the SURVEY section);
Bibliography and dictionary of terms;
All items are blazoned in dictionary form in both English and French, and some with additional full blazons in the notes.
A revised pdf-version is in preparation, expected medio 2014, which will include an ordinary of crests and - for the database version - the possibility to read all armorials included, in their proper sequence. It will also be possible to study variations of blazons and crests between the various armorials.
pdf-version View the distribution of arms by armorial, 364 KB (2006-version)
How to get it
Order through SHS
The CD-ROM is sold by Societas Heraldica Scandinavica, and may be ordered through its Secretary, or through www.heraldik.org .
Steen Clemmensen: Ordinary of Medieval Armorials, Heraldiske Studier 5, Copenhagen 2006, ISBN 87-88313-06-9 .
Price 400 DKK, approx. 53 Euro, incl. p&p, but exclusive of bank charges at both ends.
Payment instructions will follow with confirmation of your order.
download Ordinary 1.2, 50 MB. Steen Clemmensen: Ordinary of Medieval Armorials, database vs.1.2, 09.2013, 83945 coats of arms, 31694 branches/variants, 20609 families/towns/abbeys & cross-references, 14510 crests, 228 armorials in toto or in parte, updated notes. If you download this file, please inform me on the contact mail address - remember to remove the space inserted.