Ordinary of Medieval Armorials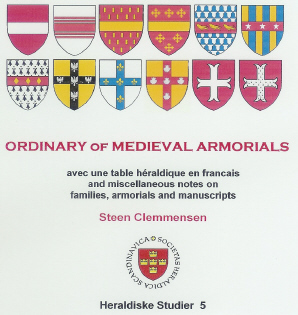 The CD-ROM edition (1.0) of the Ordinary of Medieval Armorials (2006, above) is now obsolete, and is being replaced by two revised and expanded versions for download:
the database version, vs.2.1 (July 2017, mdb), readable with Microsoft Access 2003 (or later), and having more functionality than
the text version, vs. 2.0 (July 2017, pdf), readable with Adobe Acrobat vs.6.0 (or later). The French ordinary will be revised later in 2017.

Both versions have six functional parts:
an ordinary of 87.638 coats of arms (2017 mdb-version), in part or in toto from c.250 armorials, blazoned in both English and French, and attributed to families, branches or persons;
an index of 16.861 crests and 3244 figures used as crests;
an alphabetic armory (2017-version) with notes on 17.763 families and 33.183 branches or variants, each with references, and 3921 synonyms;
a dictionary of 1280 terms used in blazon and their synonyms many with translation into several languages;
Sigla and notes on 542 armorials, murals and decorations with reference to surviving manuscripts (also available through the SURVEY section) and 130 synonyms;
Bibliography and dictionary of abbreviations;
All items are blazoned in dictionary form in English and most in French, some have additional full blazons in the notes.
How to get it
download Ordinary 2.1, 58 MB. Steen Clemmensen: Ordinary of Medieval Armorials, database vs.2.1, 04.2020, 87.638 coats of arms, 33.183 branches/variants, 17.763 families/towns/abbeys, 3.921 cross-references, 11.795 figures, 14510 crests, 228 armorials in toto or in parte, updated notes, tblFigures revised as in text version;
- - - - -
download Introduction to the pdf-version 2.0, 1.2 MB, 17 pages, master page for navigation; foreword, priority of quarters, abbreviations, numbering of items on a page, number of items per armorial.
download Survey of 542 armorials, 4.5 MB, 313 pages, sigla, notes, holding institutions, manuscripts, publications.
download Ordinary of arms - in English, 21 MB, 3675 pages, blazons, entries in armorials, owning 'families' and 'branches'.
download Notes on families, 43 Mb, 8521 pages, families, institutions and fictitional realms and persons, blazons of variations of arms, notes on persons, pedigrees, properties, seals, entries in armorials, references - as available.
download Crests, 5.9 MB, 817 pages, list of crests as an ordinary, by family and by type.
download Dictionary of terms in blazon 1.9 MB, 183 pages, basic terms used in blazon in English, French, German, Italian, Spanish, Czech,and Danish with blazons of Polish clan arms. &nbsp
download References, 2.8 MB, 49 pages; sigla and note on collections of seals, marches d'armes, maps used as reference, bibliography.